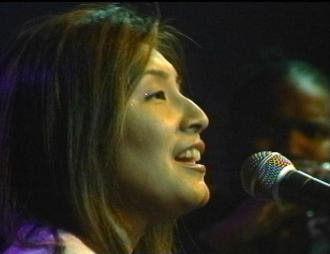 Nobuko Kiryu performing at the videotaping of "Jazz At Sunset" in April
Interview with Nobuko Kiryu, vocalist
Orlando McAllister(OM): Nobuko, you are an emerging jazz artist, but still, I notice you know many people.
Nobuko Kiryu(NK): I have a lot of girlfriends who support me. And I know a lot of musicians and learn a lot from older musicians.

OM: What do you learn from older musicians?
NK: They have a lot of culture and tradition. I can learn a lot of things from them because I'm from Japan and I did not grow up in this culture and the way they talk to me teaches me a lot.

OM: Who are you studying with, and please name the musicians who played with you on "Jazz at Sunset".
NK: I study voice with Sheila Jordan, jazz singer, and also with Barry Harris, the legendary pianist of be-bop, and I have been singing in his choir for over 5 years. The band on the show is made up of Randy Napoleon on the guitar, Bob Gingery on bass, Quincy Davis on drums, and Kevin Lewis on the trumpet.

OM: What do you know about the tradition of jazz? How is it received in Japan?
NK: I think in Japan jazz is very popular, and a lot of people respect the tradition of jazz. American jazz musicians go to Japan, and they enjoy playing there.

OM: Do you come from a family of musicians?
NK: My mother is a pianist. She plays classical and jazz. My father is also a jazz pianist and my brother plays classical trumpet.

OM: Can you name them for me?
NK: My mother is Toshiko Kiryu who has performed at Carnegie Hall. My father is Kanji Ohta who played with a lot of jazz musicians, for example Joe Jones Jr., drummer, Evelyn Blakey, jazz singer and the first daughter of Art Blakey. My brother is Takayuki Kiryu.

OM: Who were your parent's jazz inspirations?
NK: My father's most ideal jazz musician was Charlie Parker. Parker was into be-bop and that's what my father enjoyed most. He also liked Dizzy Gillespie, Bud Powell and Thelonious Monk. My father was my mother's piano teacher in jazz; although my mother at that time was already an accomplished classical pianist, she was inspired by my father's piano style. She also liked Billie Holiday and inspired me to listen to her. Presently, I sing for a church choir in Harlem in the traditional church music style and we sing Negro spirituals. I think that a lot of jazz music comes from that.

OM: Nobuko, I wanted to know about the Japanese song that you did, in terms of the origin of it, and how you segue right into the jazz idiom from that.
NK: That song is called the "Toryanse" which is a traditional song for children. It's a kids' play song. But it has a mysterious meaning to it. It says "you can come in, but it's hard to come out." I put together with "Don't Explain" by Billie Holiday, which has a very difficult situation of love. The guy is cheating women. I know that this love is not going to bring peace but I know you are in debt and you can't come out. That song says that you can come into love, but it's very difficult to come out of it. So I put the same feeling to it. That song is mysterious.

OM: Tell me more about the Japanese song.
NK: It's a traditional Japanese song talking about a road, like some street, you can go through, but you can't come back. Like this love, you can come in, but you can never come back. It's a scary feeling.

OM: And since it's a folk song then you were able to make your own arrangement for it.
NK: Yes, that was my arrangement.
OM: Does it ever happen that Japanese traditional scales are actually incorporated into jazz?
NK: You know some jazz musicians like Lee Morgan did Japanese traditional songs. And players like Horace Silver made "Tokyo Blues" using Japanese traditional pentatonic scales.
OM: For the future, do you imagine writing or arranging jazz songs that include Japanese language, Japanese melodies or other aspects of Japanese music?
NK: Nowadays Japanese music is changing, but I feel that the traditional music has a sadness similar to the blues. Traditional music in Japan, such as work songs, folk songs, festival music have elements similar to jazz and blues, in contrast to contemporary Japanese music like Japanese pop music. In the future because jazz is my first priority, maybe someday I can bring it back to Japan and integrate it into Japanese songs. However I am being challenged in writing lyrics. For example, I wrote some Japanese lyrics based on jazz standards and applied it to the music. I mostly sing English lyrics in Japan, and did some arrangements for voices. In the future the children can sing those songs. So for the kids it is easier to understand Japanese because they can imagine pictures. Japanese and English has different rhythms, and the reason I don't want to change [to] Japanese lyrics is because those rhythms can spoil the music. Japanese language has more straight rhythms, and don't quite fit with jazz. English fits in perfectly with jazz. That's why I don't want to push it too much because it is a great challenge.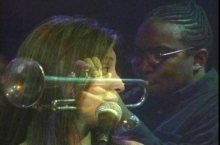 From the show "Jazz At Sunset"

OM: I wish you luck with it. Who's your favorite jazz female singer?
NK: Billie Holiday, she's great. And I also love Abbey Lincoln. She's great too.

OM: So you want to keep the tradition of jazz alive. Are you composing to keep that tradition alive?
NK: Yes. I don't have much original songs but I arrange some different music.

OM: Is there a CD in the making?
NK: Actually, I just recorded last summer. I am editing and making songs.

OM: So fans out there can look forward to your CD.
NK: Yes, yes it's coming up soon. I don't have a date yet.

OM: How many traditional jazz standards do you have under your belt? Is it over 50?
NK: I have memorized more than a hundred for sure.

OM: Tell me an area where you find some of your hardest challenges.
NK: Lyrics. I'm Japanese and I have to work on pronunciation.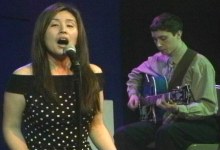 OM: Apart from English pronunciation, what have been the major challenges in your jazz training and in your efforts to be a good jazz performer?
NK: I am Japanese and didn't know the culture or the background of jazz, therefore I studied the history of jazz and met many musicians who educated me and learned the cultural background from them. As a person, I am private, and in America the culture is very expressive. I feel that I am very closed in that way, but I am trying to express myself to the best of my ability. Sometimes the audience is very tough when it comes to music and appearance, and because I am a rare singer in America with a Japanese background, the audience expects me to do more Japanese music within jazz. But I really belong to the traditional style of jazz, so my challenge is that I want to pull myself up to the level of American jazz expertise.
OM: What are things you most enjoy about working in music and in jazz?
NK: I love people and can share life experience with them through the music. Jazz is a great communicator; it is worldwide and very open and it is improvisational. One never knows what's going to happen next, but still I can enjoy it, just like life. When I am singing at a gig, unexpectedly other musicians may join us, but still the communicating takes place. I can feel something happening, working in your life, living day by day. You deal with it and take whatever is positive. I have a band called "J-jazz Sisters" who perform regularly at a place called "Showman's" in Harlem. One night I came over to the place and sat in. There were two other Japanese girls who also sat in, Akiko, organist, and Yoko, alto saxophonist. That happened accidentally, but the audience thought that it was very interesting to see three young Japanese girls together on stage. The owner of the place asked us to get the band together and play there. What happened next is that we almost played there regularly for one year. That is one of the things about music, that things can happen unexpectedly.
OM: You're doing a wonderful job. You really are.
NK: I'm working hard at it.
OM: What message would like to give to the Japanese people from my website?
NK: New York is the best place to hear jazz. So if you are in New York you should listen to jazz. This is the real place for jazz.
Jazz at Sunset
Brooklyn Zone
---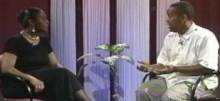 Santi Debriano interviewed by Tamm E. Hunt on
OMC's "Jazz At Sunset" cable show in NYC


Interview with Santi Debriano
Tamm E. Hunt (TH): Welcome, we're happy to have you here.
Santi DeBriano (SD): Thank you.

TH: ... You're an educator, a musician, a musician's son, the father of a musician, and the husband of an artist. What is it exactly that you're striving for musically?
SD: Well, I suppose the easiest way to put it, I just want to be excellent at what I do.

TH: Musical excellence.
SD: That's all.

TH: What does an ethnomusicologist do?
SD: Ethnomusicology is the study that combines anthropology and music, usually it is through the traditional music of indigenous people throughout the world. It's a discipline that prepares people to study obtrusively the customs and music of the people. Generally, ethnomusicology observes very carefully different techniques of world culture recordings through field observation. It's also a cultural aspect of observing how music interacts with the general culture of the people they choose to study.

TH: ...I understand that you played with Chu Chu Valdez... You are from the Republic of Panama and your father is Alonzo Wilson, 'Mambo King.' You received a Master's degree from Wesleyan College in Connecticut, Union College and New England Conservatory...
SD: I went to Union College for four years, from there I went to New England Conservatory. I interrupted my studies at New England to go on tour with Archie Shepp. I spent four years with Archie Shepp.

TH: Let us talk about your dad, Alonzo Wilson. What is his instrument?
SD:He is a pianist and a composer. He didn't make his career in music, he's teaching in public schools in New York. When we were in Panama he had a thriving career as a composer of popular songs.

TH: It's clear that education is important in your household.
SD: Yes, my mother is an educator also.

TH: I understand that your son plays the guitar.
SD: My son Dorian is five years old. He has a drum set, congas, shakers, a piano, and a guitar. He's too young to mess around with my bass, but as soon as he gets a chance to he'll be on his way.

TH: ...Your wife is a painter. How does that fit into your world of music?
SD: She's done three of my album covers. Many times people say to me, "I bought your record because of the album cover." It's a good thing the music was good.

TH: Did you have an album released...?
SD: ...[In 1999] I had two records released. The first to appear was the Euphoria Trio. Euphoria is a cooperative with Paul Meyers, Von Dule, and myself. My second one was released in May and that one was called "Circle Chant", which is my band that I play with around New York City quite often.

TH: Someone described you as a well-known sideman. I looked at your discography and you are not the usual sideman. You have record deals and you have been out there. What is in the future for "Circle Chant?"
SD: The idea behind "Circle Chant" is the circle shout or ring shout that goes back to the most indigenous cultures, especially the African cultures who have always done things out of a circle.... They would sit around a circle if they were performing a healing, theatrical presentations, telling a story, or preparing sacrifice for the hunt. They would form circles and even formed circles to eat dinner.

TH: Is there a focus in the center of the circle?
SD: Most often, something is in the center.

TH: As with food?
SD: Right, fire or a healer. The general notion is that you form a circle and then something magical takes place inside of the circle.

TH: Are you inside the circle with the band?
SD: The music with the band is coming in contact and forming a circle. We are like a family. We are very tight-knit, and I always try to call the same people. We know how each other moves and breaths. We have been working on it for some time. I am happy with the group and everyone that involves themselves with it.

TH: You have Latin roots, you are Panamanian, and your dad is a mambo king. You clearly have a sense of the center of your music being the rhythm of Africa. How does that affect you as being a straight-ahead artist? Where does Bebop come in?
SD: I learned my craft through Bebop. Bebop is what put me on the map. Not only bebop, but also the whole legacy of jazz has informed me. When you listen to my music, I hope you do not think of it as Latin Jazz, it's just music. I am proud to be a jazz musician associated with the history and legacy of jazz music, and hope other people will take it that way because it is improvisation.

TH: I think we have to be careful about the labels we place on music, musicians, and composers with different styles of music. We're in a century with Duke Ellington, who indeed was a diverse composer. How do you find the influence of Duke Ellington in your life and your music?
SD: He is one of the essential influences. I remember being a child listening to him and watching him on the Ed Sullivan Show. I felt a sense of pride. I felt like I was being uplifted by seeing this Black figure with his band not only playing so well but speaking very eloquently. It was a remarkable sight and something to make you feel proud.

TH: You are a young man in this music business but then indeed, you are a future elder of the business. The whole future of jazz depends on you and those of us that have been working on it for the last twenty-five years or longer. Where do you think the future of jazz is headed in terms of the twenty-first century?
SD: I can only tell you where I hope that it is going. It will expand and incorporate more influences. If Jazz becomes more specific to a certain stylistic groove or stylistic interpretation then it's really shortchanging its possibilities. I feel a tremendous sense of encouragement and excitement when I see that the Indians have been able to see something in jazz and understand the philosophy behind it.

TH: Are you referring to the East Indians?
SD: Sure, or the American Indians, or the French, and the Japanese are working on it for themselves. Jazz is worldwide now, and that is a wonderful thing because you're getting all types of Jazz music coming. I have to mention the African musicians performing Jazz as well.

TH: Absolutely.
SD: This is a music that is related to African music. African music came to this country then it went back to Africa and influenced musicians over there and now they are creating jazz.

TH: Ladies and gentlemen, we're listening to Santi Debriano -- bassist extraordinaire.




Jazz at Sunset video show
producer & technical director
Orlando A. McAllister


Jazz at Sunset
Brooklyn Zone

Copyright © 2001-2004 BrooklynZone.com