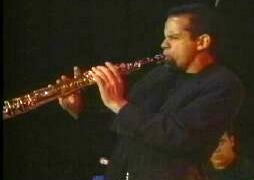 Urban Minds featuring Pablo Gil
interviewed by Felix Leo Campos
Felix Campos(FC): Welcome to Jazz At Sunset. My name is Felix Leo Campos. I'm your host of this particular show. Pablo, nice set you had there. Do you want to introduce your musicians?
Pablo Gil(PG): On bass we have Tim Lekan, on drums we have Mark Giammario, on piano Kerri Politzer.

FC: How long has Urban Minds been together?
PG: We've been together off and on for about 6 months.

FC: It doesn't sound as if the group has only been together for 6 months. You guys really sound tight. How long have you been a musician?
PG: I've been a musician for about 14 or 15 years. I started when I was about 16 or 17.

FC: What inspired you to get a job in music?
PG: My love of music. I just wanted to play. It's been the saxophone, but it would have been any instrument.

FC: Do you have family members that are into music?
PG: I've researched about 4 generations and no one has been a musician.

FC: So folks, we have a mutant gene in the house. Tell us about your music career. What formal training, if any have you had in music?
PG: I started in Venezuela, my native country. Then I went to France for 7 years. I stayed in the conservatory there. I have a classical degree. Now I'm finishing a master's degree at City College.

FC: I'm here with Kerry Politzer, pianist, organist, keyboard artist. How do you prefer to be called as a musician?
Kerry Politzer(KP): I started playing the piano when I was 3 years old, but I didn't start playing jazz until I was 20, now I'm 28.

FC: How did you meet Pablo?
KP: I met him in Mark's living room about 6 months. I was very surprised about his musicianship.

FC: What about his musicianship surprised you?
KP: He's just so good. When you first come into a room with people to play, you never know what's going to happen. When I heard him I was like wow.

FC: Before you began playing jazz, what kind of music did you focus on?
KP: Classical music.

FC: Any classical music in particular?
KP: Bach, Ravel, and the people they make you study in the conservatory.

FC: Which conservatory did you attend?
KP: The New England Conservatory of Music in Boston.

FC: What was the biggest culture shock that you had to endure moving from Boston to N.Y.?
KP: Maybe how many good restaurants there are in NY compared to Boston.

FC: With me is the bassist for Urban Minds, Tim Lekan. How did you get caught up in a stringed instrument?
Tim Lekan(TL): I started electric bass when I was studying in English in College. I was listening to a lot of jazz, but by the time I was good enough to do gigs on electric bass I was in my early twenties. I heard that most great players started playing in their teens, so I put it off until I was 32.

FC: He went from English, to electric bass, to the upright bass. What's the difference for you in terms of playing on upright instrument versus a strap-on or electric bass?
TL: Besides the fact that most electric basses have fritz, you don't need an amplifier to play the acoustic bass. The sound that you get is what you draw from the instrument.

FC: How long have you been in NYC?
TL: About 14 months.

FC: Where are you from?
TL: Atlantic City, NJ.

FC: How did you meet Pablo Gil and the other fine musicians?
TL: I met them about nine months ago. Mark had done a gig with a buddy of mine from Atlantic City. That bass player had given Mark my telephone. So Mark gave me a call and we started playing. Eventually Mark called Pablo. Two & a half years ago I played at a Brazilian workshop in NY that Kerry was participating in. When I moved up here we began calling each other for about 6 months. I was trying to get her into sessions that I was doing. Pablo, Mark, and I had been playing steady together for several weeks. Finally I got Kerry hooked up on a session. We had great chemistry and she writes great tunes.

FC: What do you think is the main ingredient that unites and bonds this band?
TL: Basically, just listening and the desire to grow and play music together.

FC: We're with Urban Minds and Mark Giammario, their drummer. Now you are the culprit that is responsible for bringing everyone together, am I correct?
Mark Giammario(MG): That's correct. I have a free spot to rehearse and the neighbors who will put up with it.

FC: How did you get into playing the drums?
MG: I came from a family of musicians. My father and my brother started on the violin, then the piano. I just sat down at a drum set, played a rock beat and that's just what I went into.

FC: A lot of people don't understand the different components of the drums. Please explain what you have here.
MG: Well, this is a jazz kit mainly because of the open tuneing, meaning there's no muffling on there and the small dimensions of the drums themselves. And with jazz the drummer usually plays from the top down, meaning not so bottom heavy as with other types of music.

FC: What kind of influence would you like to be as a band to young musicians coming up and playing your CDs.
MG: I'd like to simply make them feel good. When they listen to our music I'd like them to enjoy it.

FC: As a musician and bandleader what kind of legacy would you like other musicians to recognize from you and Urban Minds?
PG: I think we're here to express ourselves and to get the most out of what each other has to say. If we can do that through our music, then that's as far as I would like to go. I think when a musician is able to express himself he gets through to people.

FC: Excellent. Mark, Kerri, Pablo, Tim, thanks a lot for being with us here.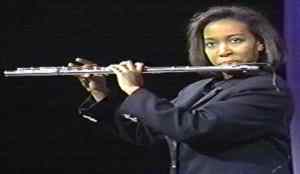 Shani Andrews at "Jazz At Sunset"

Shani Andrews
interviewed by vocalist Francina Connors
Francina Connors (FC): Welcome to Jazz At Sunset, produced by Orlando McAllister. Today we have Shani Andrews. I'd like to say welcome.
Shani Andrews (SA): Thank you.
FC: The first thing I want to know is the name "Shani".
SA: My mother had originally looked for a name and she found an Indian name "Shani". It means "precious jewel". She was kind of expecting me to do something different so, I guess she could give me a different name like that.
FC: Do you come from a very artistic family?
SA: Yes, my grandmother was a concert pianist and taught at New York University and was head of the music department there. My mother also studied and played organ in the church and my great-grandfather was a doubler in South America.
FC: A doubler?
SA: Yes, a doubler with woodwinds. That's basically where I get my roots from.
FC: Are your brothers also musicians?
SA: Both my brothers are artists. One of them is into computer art and the other is more of a sculptor; both of them are still in college and doing commission work.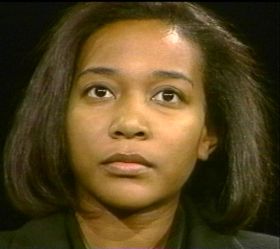 FC: What drew you into Latin Jazz?
SA: I've always studied Jazz since I was 14. I've always had a fascination with Latin music. So about a few years ago I started getting into the rhythms, playing with Latin groups and decided: why not combine the two? There is some appreciation combining the two, so I took it upon myself to try it.
FC: You had mentioned backstage about the flute and the vibraphone. How did you come about putting them together?
SA: Well, traditionally, I came to Latin Jazz from the jazz musicians' point of view where you have the two leading instruments, and I felt that if you put a flute and a sax, or a flute and a trumpet together it would be out of balance. One tends to be louder, and is going to outdo the other as far as sound, and you always expect a flutist to pick up a saxophone when playing with a trumpeter. Vibes and flute tend to blend together, and I figured that would be perfect for two lead instruments if you look at it from a jazz point of view.
FC: Who were some of your influences on flute and vibes, since you're incorporating that into your sound?
SA: For flute, Frank Wess was the first person that I really got into, after that Hubert Laws. Then after that Dave Valentin, who was an inspiration to me in the beginning to check out Latin music. For vibes, it started with Milt Jackson. And in Latin vibes Tito Puente who played vibes.
FC: That's right, earlier in his career.
SA: There are a lot of people, but basically those two inspired me.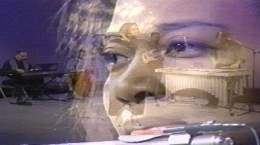 FC: What are the goals for four to five years from now for Shani Andrews?
SA: Four to five years from now I will consider doing an Acid Jazz project. That's something that's been on my mind, and it would be totally different than this, but it would be my playing still.
FC: Are you writing for that now?
SA: No, not right now. First things first, I will like to finish this first.
FC: You seem to have your plate full.
SA: Definitely.
FC: How would you describe your sound? What is your view towards music?
SA: I try to play a lot of Be-Bop, just to bring it to another realm, that's all.
FC: And your philosophy of music?
SA: My philosophy, I'd say: even though you might have a quiet voice and something to say, state it, just as long as what you have to say is important and cannot be quieted.
FC: So you're going to be heard, quietly, speaking softly and still being heard. Thanks for coming out.

Francina Connors interviewing Shani Andrews

Jazz at Sunset video show
producer & technical director
Orlando A. McAllister


Jazz at Sunset
Brooklyn Zone

Copyright © 2001-2004 BrooklynZone.com